Driving School Web Templates with Website Hosting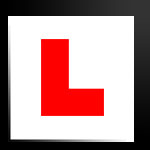 ADI Driving School Website Design Template
Whether you operate your business alone or you manage a team of ADI driving instructors, our driving school websites at QuickontheNet.com will scale up or down to meet your needs.
We are talking about QuickontheNet.com, the unique web templates service from Quick on the Net Limited.
If you buy a website design template from our designs web page for your school of motoring, it will be supplied using the logo graphic, layout and style you see presented when you click-through to view the site in question.
To help you get started, we provide the following pictures:
L plate logo (red or yellow learner plates).
Car wheel picture.
Car logo design.
All of the menu items and the site structure will be preserved when you make your purchase. In other words, it will be supplied ready for you to insert your own content.
What's more, you can completely modify the site when you buy it. For example, you might wish to apply a new layout, a new style, or insert some new web pages. And of course, you can upload your own pictures and embed videos.
We have already designed a car business logo for you. However, if you prefer, you can add your own driving school logo.
We provide international driving school web templates, with pre-designed schemes for the UK, Ireland, Australia and New Zealand and they can easily be adapted for the USA and Canada.
The full feature list is simply far too long to present here, so please visit our design templates overview page for more information on this unique offer.
We invite you to click and browse through the range of driving school web templates and please remember, web hosting is already included as part of the service.